Rotary is dedicated to seven areas of focus to build international relationships, improve lives, and create a better world to support our peace efforts and end polio forever.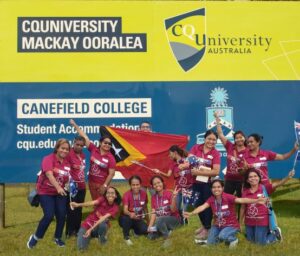 MACKAY
Charter Date: 16 October 1926
P O Box 373 MACKAY QLD 4740
Meets At
Ocean International Hotel Tuesday: 5.45 for 6.15pm
What we do
Fund training for Nurses, teachers and University students in Vanuatu
Support the Mental Health + Wellbeing Fair held in Mackay
Support Rotary Youth Driver Awareness (RYDA) for new drivers in Mackay.
Support Australian Rotary Health Scholarship to fund a three year PHD study into Youth Suicide in Queensland.
How We Raise our Money
Meat Tray raffle every Saturday at Mt Pleasant Shopping Centre.
Bar at the Mackay Food and Wine Festival
Trivial Pursuit Night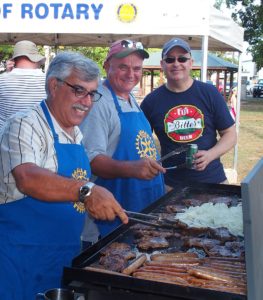 MACKAY NORTH
Charter Date: 18 March 1970
PO Box 3059 Mackay North Q 4740
https://www.facebook.com/Rotary-Club-of-Mackay-North-Inc-275921149103677/
Meets At
Thursday: 6.00 for 6.15pm North Mackay Bowls Club
Fundraising
Troppo Markets – Monthly at Mt Pleasant, second Sunday except Dec when it is the first Sunday
Projects
Adopt a Road Mackay Bucasia Road between Holts and Golf Links Roads Roundabouts
Give Me 5 for Kids
Great Community Fundraiser – All funds returned to organisations after raffle drawn
Solomon Islands Western Province support for schools and hospital
Support the Mental Health + Wellbeing Fair held in Mackay
Support Rotary Youth Driver Awareness (RYDA) for new drivers in Mackay.
Youth Exchange Program
NYSF sponsor
CQ University Bursary $2,000
Northern Beaches Satellite Club
Gooseponds walkway park bench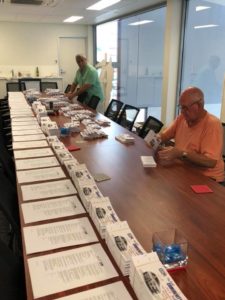 Community Car Raffle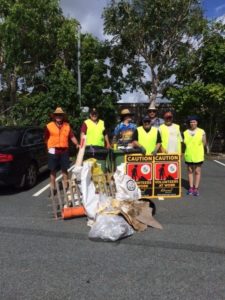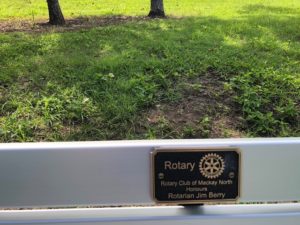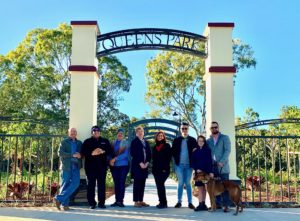 MACKAY SUNRISE
Charter Date: 18 May 1992
PO Box 1503 Mackay Q 4740
Meets At
Friday: 6.45 for 7.00am Ocean International Hotel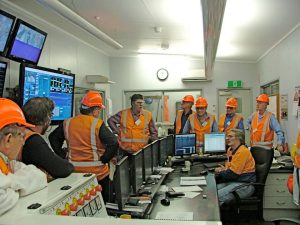 MACKAY WEST
Charter Date: 1 October 1959
PO Box 610 Mackay Q 4740
https://mackaywestrotary.org.au/
Meets At
Wednesday: 5.45 for 6.15pm Shamrock Hotel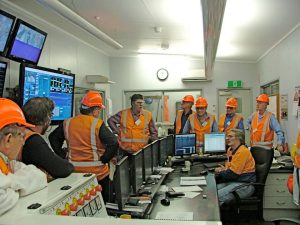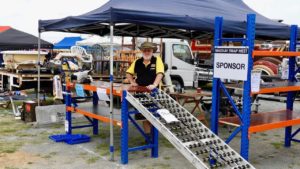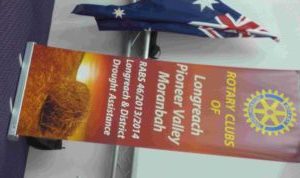 PIONEER VALLEY
Charter Date: 22 October 1975
PO Box 46 Mirani Q 4754
Meets At
2nd & 4th Monday: 6.30 for 7.00pm The Duke of Edinburgh Hotel, Walkerston
Longreach and District Drought Assistance RABS 46/2013/2014
To date we have forwarded out west 5200 x1.2 m round bales of quality Hay. 51 double road trains. In excess of 700 full legs of ham to grazers over the past 3 years at Christmas. Several large pallets of cat and dog food. Three pallets of Christmas gifts. We have raised just short of $900,000.00. in cash and donation in kind. These fund have been donated by Rotary Clubs all over Australia. We are now assisting the School of Long Distance Education with funding for the annual school camps.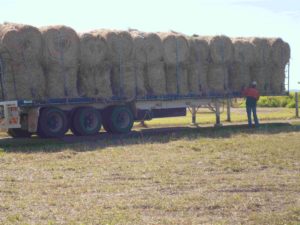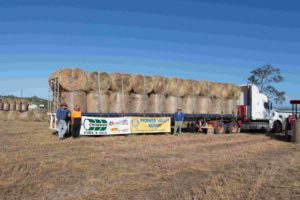 Hay to Assist the Drought Stricken Farmers organised by Pioneer Valley Rotary Club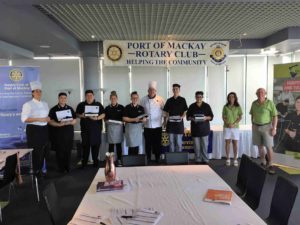 PORT OF MACKAY
Charter Date: 29 May 1984
PO Box 514 Mackay Q 4740
Meets At
Friday: 12.00 for 12.30pm Ocean International Hotel
Who We Are:
Our club consists of 29 members and is a mixed gender club and we enjoy lots of fun and laughter at our meetings. Whilst helping in our community is a priority, a good time is always enjoyed by all, making any project a much simpler task.
How we raise funds:
1. We hold weekly raffles at the Sails Sports bar at the Mackay Marina each Sunday afternoon.
2. Almost all of the club members hold a RSA (Responsible Service of Alcohol) licence so we are qualified to serve alcohol. We hire ourselves out to functions in Mackay and receive an hourly wage.
3. We operate the bar for the biennial QME (Queensland Mining Exhibition) in Mackay.
4. We hold a Lottery every year.
5. We have operated the entrance gates for some sporting events, taking payment for entry and are paid on an hourly basis.
6. We hold a sausage sizzle at Bunnings when our turn comes up, usually every three months.
7. Run special events such as The Duck Derby when appropriate.
What we do:
1. We sponsor the local Surf Club boat and have our logo on the side of it. We have also painted the outside of the Surf Club building.
2. We are sponsoring an Exchange Student from Denmark for 12 months through the Rotary Youth Exchange Program.
3. We fully sponsor two children through the Smith Family.
4. We hold a Young Chefs competition through the local high schools every year.
5. We hold a 'Pride of Workmanship' awards day every year and present a trophy and certificate to all recipients.
6. We hold a sausage sizzle every two years for the Senior Citizens Day.
7. We hold a food stall at the annual Volunteers Day held at the Senior Citizens Hall.
8. We give out an annual award for the most impressive speaker during our year.
9. Sponsor a student to the National Youth Science Forum.
10. We have been successful in applying for a grant and are now completing a major project at The Samaritan House in Mackay. The Samaritan House provides crisis accommodation to women and children escaping domestic and family violence. We are replacing an existing kitchen that is falling apart and is 30 years old as well as a bathroom that is not in a safe condition to use. This will bring about some dignity to the women using this facility.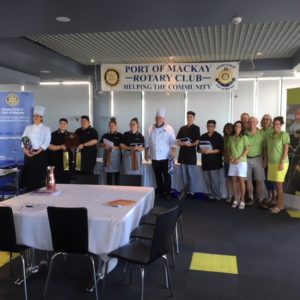 YOUNG CHEFS COMPETITION
We run this event annually and it is now in its 16th year. It involves many of the schools in the district that offer home economics as a subject and have the facilities. Competitors are judged on technique, taste, texture and presentation. We are proud to support this event in Mackay as it is an excellent stepping stone towards a career for these students. A challenge such as this is also character building, in the sense it provides students with an opportunity to manage working under pressure. It also encourages competitors to think on their feet and teaches them the value of time management. Some of the competition's cooking challenges will include preparing and presenting a two-course menu and table setting within a deadline. Students produce some high quality meals, they have a lot of fun doing so and they'll learn valuable cookery skills along the way. The judges always discusses with the participants what they could have done better and gives positive feedback and encouragement. They nurture the students, quell the nerves and make the day a lot of fun. We have a Junior and Senior section. The winning team and runner-up team of each section receive a certificate and a prize. They are then allocated to a local restaurant who will train them in the kitchen for a day.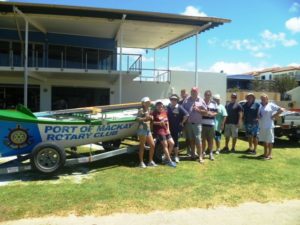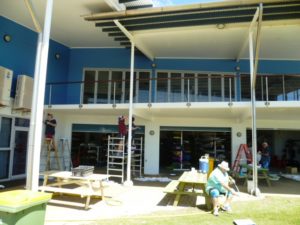 MACKAY SURF LIFESAVING CLUB PROJECT
As the club was formed and originally met at the Mackay Harbour, we were aptly named Port of Mackay. This affiliation with the harbour has remained with the club and we sponsor them on a regular basis. They are a volunteer organization that provide an important service to our community. We have held numerous working bees at the clubhouse to carry out maintenance and also painted the outside of the clubhouse. We also sponsor a surf boat every year and have our name and logo proudly displayed on the side of this boat.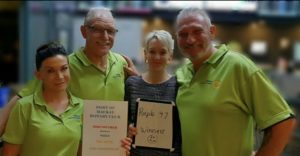 SAILS RAFFLE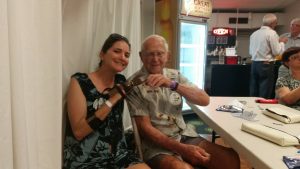 SARINA
Charter Date: 13 May 1949
PO Box 35 Sarina Q 4737
https://www.facebook.com/Sarina-Rotary-Club-807229149346249/
Meets At
1st & 3rd Tuesday: 6.00 for 6.30pm Sarina RSL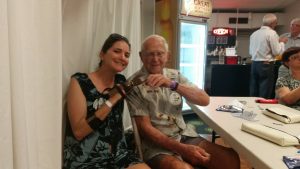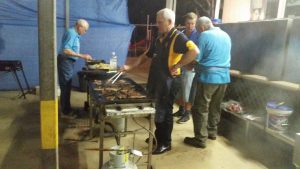 Club Projects:
Walkerston Community Christmas Carols,
Local Kerbside Numbering,
Annual Literacy Project,
Annual Walkerston Library Book Week Parade,
Walkerston Run for MI Life,
Mackay Black Dog Ride,
Little Street Library,
Tractor Pull Competition & Vintage Tractor, Machine and Motor Show
Annual Presentations:
Local Community Service Award,
Vocational Service Award,
Cliff Andersen Memorial Sports Award,
Walkerston State School Dux Awards,
St John's School Academic Awards,
Pioneer Valley Schools Public Speaking Competition,
Fundraisers:
Annual Walkerston Livestock Auction,
Parking attendants at Annual Greenmount Heritage Fair,
Wheelbarrow Christmas Goodies Raffle,
Supporting:
CQ Rescue,
Pancare Foundation,
McGrath Foundation,
Knitted Knockers,
Smile for Smiddy,
Do It In A Dress,
Days for Girls,
Walkerston Fire Station,
NYSF candidate,
RYPEN candidate,
ROMAC,
The Rotary Foundation,
Rotary Health,
Polio Plus,
Interplast,
Shelterbox

Walkerston Christmas Carols Evening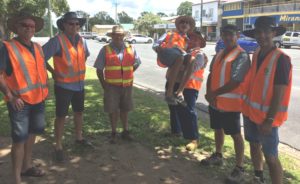 Happy Parking Attendants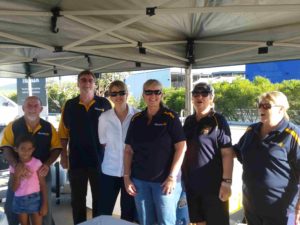 MACKAY NORTHERN BEACHES SATELLITE
Charter Date: Soon
Meets At
2nd & 4th Wednesday: 6.30pm Northern Beaches Bowls Club
Satellite Club Report
On the 13th December 2017 an induction evening was held to mark the beginning of the newest Group 1 Club, the Satellite Club of Mackay North – Northern Beaches. The evening saw the club welcomed into the Rotary family with great support from DG Malcolm Saunders, DGN Michael Buckeridge, President of Mackay North Neil Wallace and Past President Larry Slattery. Since then our little club has been enthusiastically working towards contributing to the local community and also becoming those people of action that make a difference.
During some of our early meetings we discovered that many of us have a connection to youth, be they in our workplace or within schools, and through them their struggles with mental health issues. This area become a target for some of our efforts.
The most significant work that we have undertaken has been the hosting of a Mental Health Forum, focusing on youth depression anxiety and suicide. With the support of Past District Governor and Director of Rotary Health – Mark Lean we were able to arrange for the GM of Headspace Wayne Horwood to make a presentation to over 70 Rotarians and local community members passionate about this area. The night was also well supported by the local Northern Beaches High School staff. Our club has now applied for further funding to provide for the running of a two day Mental Health First Aide Workshop for 25 people. It is also anticipated that the club will support Headspace running a whole school project through staff and students at the nearby Northern Beaches High School.
Other areas where we have lent a hand include the planting of over 200 trees on the dune area of the Northern Beaches, in conjunction with other Group 1 Clubs and the Mackay City Council. We also ran the drinks and sausage sizzle at the start of the Black Dog Short Ride that was held in Mackay this year. This was a great spectacle with over 200 bikes being involved. Bunnings set us up with some great equipment and we just had to provide the manpower. Coordinator of the event Charles Linsley had come and spoken to the club, just prior to the event and from donations received on the day we were able to invite him back and hand over a cheque for $200.
Mackay City Councillor, Lawrence Bonaventura, has also spoken at the club – focussing on a project to upgrade the Camelleri St Parklands, in our local area. Plans were discussed as to how the club could work with the council and perhaps 'adopt the park' as a space where we help out with the appearance and upkeep of the space.
To provide us with a bit of income and to increase our profile in the community we have also been running sausage sizzles at the local Woolworths store. The supermarket has generously been providing us with the materials and we just have to cook the food. We have greatly appreciated their support.
Currently our membership is in the early teens but we are getting interest from new folk along the way. Our club only meets twice in the month and some of the flexibility for attendance and membership make the new arrangements a viable and attractive option for those of us time poor with work and family commitments. We are a happy group of folks and all seem to be enjoying the possibilities being created for us to make a difference in our local community and contribution to the international scene.
Thank you, Chairperson – Tania Cheers